FOR THE PROFESSIONAL WAXER
VEGAN 🖤 NONTOXIC 🖤 CRUELTY FREE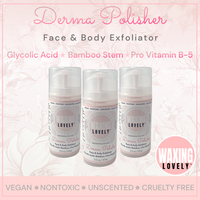 Derma Polisher Face & Body Exfoliator
Our strongest exfoliant polishes the skin, removing dead skin and daily grime. It unclogs the pores and helps prevent blemishes, prevent acne, and fade dark spots. Designed to effectively polish the skin, this formula is non-harsh and gentle yet deeply exfoliates the top layer of the skin. It is infused with glycolic acid, Bamboo stem powder, Pro-Vitamin B5, and natural volcanic ash pumice. This exfoliant will boost collagen regeneration, even the skin's texture, brighten the complexion, and leave the skin glowing, so soft, and radiant. It can be used in the face, body, and pubic areas. Available in retail and wholesale quantities.
Learn More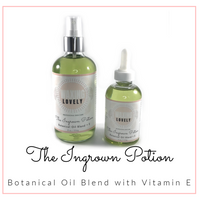 The Ingrown Potion
A post waxing must have! This non greasy botanical oil blend contains powerful ingredients including Blue Chamomile, Tea Tree, Juniper Berry, Lavender, Clary Sage, Grape Seed, Pomegranate, and Maracuja organic cold pressed oils that will loosen the hair follicles  to combat and prevent ingrown hair. This potion will calm, protect, soothe, and moisturize your skin.
Shop Now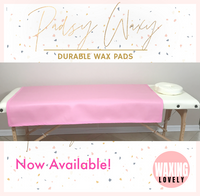 We have partnered with Padsy Waxy to offer their amazing marine quality durable wax pads! High quality UV treated, mold, mildew and superior moisture resistant Baby-soft vinyl on one side, pink felt on the other to keep it from slipping around on your table. Once you try this waxing pad you will never go back to using towels or paper! Padsy Waxy pads are not thin, thick or stiff. They are soft yet very durable and the materials are CPSIA compliant which means they are lead free and safe for kids and everyday use. Covers the bed protecting sheets and blankets from wax and oils and enhances hygiene since it stops fungus and bacteria from growing. Our pads are waterproof, scratch resistant and perfect for your everyday needs.
Learn More