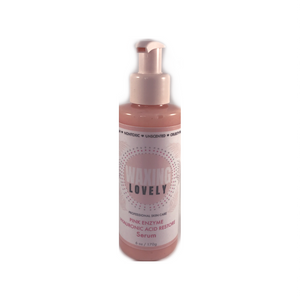 This serum overachieves it all! Packed with antioxidants, Blood Orange Enzyme, Hyaluronic Acid, vitamin C, vitamin E, organic Aloe Vera, Chamomile, and organic Jojoba oil. This serum is a potent skin brightener, moisturizer, it firms and evens out the skin tone, and reduces the appearance of dark spots. This highly concentrated formula includes the antioxidant L-Ascorbic acid to help reduce signs of aging and leave skin silky soft, Aloe Vera and Chamomile for soothing and calming, and also contains Hyaluronic Acid to infuse skin with a dose of hydration.
This serum can be used in the face, body, and bikini area. It is vegan, non-toxic, and cruelty-free.
Brightens and firms the skin
Evens out the tone and texture of the skin
Reduces the appearance of dark spots and scars
Provides intensive moisture, and leaves the skin silky soft
Blood Orange Enzyme Complex 
A distinct plant derived complex designed to provide powerful antioxidant benefits to uphold a youthful skin but it also provides potent moisturization for improved appearance and skin health.
Hyaluronic Acid This skin-identical substance comes from plants and wheat. It produces lubrication to the connective tissues of our joints and skin, which makes it very important to our skin's health. As we age, the skin starts to lose moisture and starts to sag, and wrinkles become more apparent. Hyaluronic Acid in skincare products acts a humectant binder, meaning it holds the moisture on the surface of the skin so the skin stays hydrated and maintains its elasticity. Just a single gram of Hyaluronic Acid has the ability to hold up to six liters of water.
L-Ascorbic Acid L-Ascorbic Acid (vitamin C) is a potent antioxidant that neutralizes free radicals and is a vital molecule for skin health. Vitamin C declines in our skin when we expose it to UV lights, pollutants, and other environmental factors. Vitamin C aids the skin in natural regeneration process, which helps your body repair damaged skin cells. Vitamin C helps prevent premature aging.
Vitamin E Natural The antioxidant properties of vitamin E can help to prevent damage to skin caused by free radicals from UV exposure. Vitamin E may also have an anti-inflammatory effect on the skin.
Smooth gently onto skin in circular motion.
Aqua destilata (Distilled Water), Organic Vegetable Glycerin, Jojoba Oil Organic Pure, Blood Orange Enzyme Complex, Euxyl Pe 9010, aloe barbadensis miller (Aloe Vera Juice organic), Matricaria Recutita (Chamomile Extract), Coco Caprylate, L-Ascorbic Acid (vitamin C), Vitamin E T-50 Natural, Hyaluronic Acid, Sepimax Zen, Natural Pink Micca.
All types, Dry, Normal, Oily, Combination, Problem