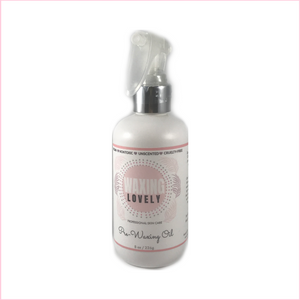 Our Pre Waxing Oil formula moisturizes and protects the skin by making sure that the wax only adheres to the hairs and not the actual skin.
This non greasy oil formula was made with Calendula Extract, organic Grape Seed Oil, and organic Sunflower Oil. The combination of these ingredients contain healing, moisturizing and soothing properties to help you achieve a more pleasant and comfortable waxing experience.
Our Pre Waxing Oil comes in an HDPE plastic bottle with a sprayer. Is vegan, paraben-free, phthalate-free, cruelty-free, gluten-free, non-toxic, and unscented.
Moisturizes and protects the skin
Prevents the wax from adhering to the skin
Makes waxing a more comfortable experience

 
Calendula Extract  is known to have ultra soothing, healing, and anti-inflammatory properties. It helps with relieving redness, dry, and itchy skin. It helps maintain the skin smooth and radiant.
Grape Seed Oil, Organic  has high levels of Linoleic acid, an omega-6 fatty acid that helps control skin breakouts by decreasing clogged pores. Grapeseed oil contains high amounts of vitamin E. It helps protects your skin from UV ray damage and is a great non-comedogenic moisturizer that lightens the skin, tighten pores, reduces breakouts, and protects the skin against free radicals. 
Sunflower Oil, Organic  Is high in beta-carotene, vitamin E, and fatty acids which are essential for the skin-barrier repair.  
Spray Pre Waxing Oil onto a cotton pad and smooth over the skin gently.
Aqua destillata (Distilled Water) , Vitis vinifera (Grape Seed Oil, organic cold pressed), Helianthus annuus) (Sunflower oil, organic cold pressed), Isopropyl myristate, Calendula Officinalis (Marigold) Flower Extract, Liquid Germall Plus
Dry, Normal, Oily, Combination