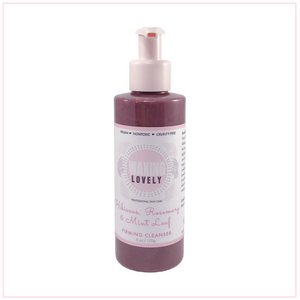 This cleanser is formulated with Hibiscus, Rosemary and Mint leaves, providing skin tightening, anti-inflammatory and astringent properties to help prevent puffiness and swelling. This cleanser exfoliates, combats breakouts and blemishes, and it soothes and refreshes the skin leaving it firm, soft, and moisturized.
This cleanser is safe to use in the face, body, and bikini area. It is vegan, paraben-free, phthalate-free, cruelty-free, gluten-free, non-toxic.
Contains skin tightening properties
Cleanses and dissolves dirt and impurities
Contains astringent and anti-inflammatory properties
Soothes & moisturizes the skin
Hibiscus Powder Hibiscus flowers are one of the most powerful anti-aging plants in existence. They promote skin elasticity for a youthful skin. Elastase is the enzyme responsible for breaking the elasticity in our skin; Hibiscus has the power to inhibit the elastase enzyme to prevent the aging process, and it helps firms the skin.
Rosemary Powder This powerful herb has anti-inflammatory properties that help eliminate puffiness and swelling. It helps heal acne breakouts and blemishes, and it soothes and refreshes the skin. Rosemary helps tighten the skin for a more firm look, and it helps prevent premature aging. It has excellent toning and binding effects on loose, sagging skin, while at the same time increasing blood flow which in turn promotes proper skin function. It helps to relieve skin congestion, and the diuretic attributes help to reduce puffiness and swelling, resulting in a firmer skin and better skin tone.
Mint Leaf Powder Mint Leaf powder comes from the Mentha plant and contains powerful benefits for the skin such as astringent, anti-inflammatory, and healing properties. It also contains natural salicylic acids to help fight breakouts. These leaves help tighten the pores and provide refreshing, soothing, and moisturizing effects, leaving the skin super clean and soft.
Grapeseed Oil Organic Cold Pressed Organic Grapeseed oil comes from the cold-pressed seeds of grapes. It has high levels of Linoleic acid, an omega-6 fatty acid that helps control acne by decreasing clogged pores. Grapeseed oil contains high amounts of vitamin E. It helps protect your skin from UV ray damage and is a great non-comedogenic moisturizer that lightens the skin, tightens pores, reduces breakouts, protects the skin against free radicals, and minimizes the appearance of fine lines and wrinkles.  
Pump cleanser onto hands and smoothly onto skin in circular motions until it foams. Rinse with water or a wet towel.
Aqua Destilata ( Distilled Water), Vitis vinifera (organic Grapeseed oil), Mint Leaf (Mentha) Powder Organic, Hibiscus rosa-sinensis (Hibiscus Powder), Rosmarinus officinalis (Rosemary Powder), Organic Raw Vegetable Glycerine, Soy Lecithin, Xanthan Gum, Coco Glucoside, Cocamidopropyl Betaine, Liquid Germall Plus, Hibiscus fragrance.
All Types, Dry, Normal, Oily, Combination