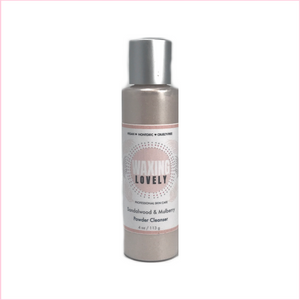 One of the main benefits of powder cleansers is that they don´t contain water, therefore, their active ingredients are much more potent since they are undiluted. Our Sandalwood & Mulberry Powder Cleanser is a strong formula packed with brightening and antioxidants properties that polishes the skin, cleanses dirt, impurities, and oxidative stress. This preservative free cleanser is made with Sandalwood which contains astringent properties to help combat breakouts, and blackheads. Sandalwood helps reduce dark pots and scars, and contains antimicrobial and anti-inflammatory properties. Mulberry Leaf is rich in vitamin B-complex, vitamin C, amino acids, and minerals. It contains natural skin brightening agents to help combat dark spots and pigmentation. This cleanser will leave the skin polished, so cleansed and soft.
This cleanser is safe to use in the face, body, and bikini area. It is preservative free, vegan, paraben-free, phthalate-free, cruelty-free, gluten-free, non-toxic.
Cleanses and dissolves dirt, impurities, and polishes the skin
Combats dark pots, excess pigmentation, and scars
Leaves the skin cleansed and soft
Sandalwood Powder Organic Is derived from the fragrant wood of the Genus Santalum tree. Sandalwood or Chandan is recognized in Ayurveda as an excellent beauty ingredient that is natural, and super effective. It contains anti-inflammatory and antiseptic properties that prevent pimples, acne and sores from developing. Sandalwood acts as an astringent that helps treat breakouts, blackheads, and also tightens the pores. It helps reduce scars, dark spots, ,and marks, it is great for skin brightening.
Mulberry Leaf Powder Organic Mulberry Leaf powder is packed with B-complex vitamins, vitamin C, amino acids, and minerals. It contains natural skin brightening agents to help combat dark spots and pigmentation. Mulberry Leaf is considered a natural alternative to Hydroquinone, it helps prevent premature aging and promotes a healthy bright glow on the skin.  
Gram Flour Gram flour is made from ground chick peas. It has antimicrobial properties and is known to exfoliate and lighten the skin . It removes dirt, and toxins from deep in the skin. Gram flour contains zinc which helps combat acne breakouts, it evens out the skin tone, moisturizes, and replenishes the skin leaving it with a radiant glow.
Using a small bowl, mix a little bit of powder cleanser with some water and apply onto skin, use the cleanser brush and cleanse the skin by brushing gently (make sure to clean and sterilize the cleanser brush before each use). Rinse with water or a wet towel.
Genus Santalum (Sandalwood Powder), Morus (organic Mulberry Leaf Powder), Besan (organic Gram Flour), Arrowroot Flour, Sodium Cocoyl Isethionate Powder, Fragrance Powder
All Types, Dry, Normal, Oily, Combination