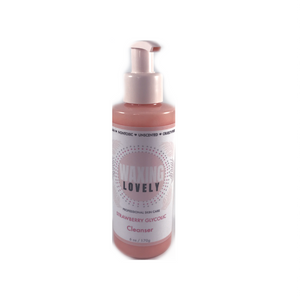 Formulated with Glycolic acid derived from sugar cane, a powerful exfoliating and brightening agent. Glycolic Acid is the smallest AHA (alpha hydroxy acid), so it's the most effective at getting into the skin effectively preventing breakouts and build ups, and promoting cell regeneration. Strawberry complex which is super rich in Vitamin C and polyphenols, is contains very high anti-oxidant activity that helps minimize pores. This cleanser detoxifies the skin from dirt, impurities, and free radicals that causes oxidative stress, it leaves the skin cleansed, rejuvenated, and so smooth.
This cleanser is safe to use in the face, body, and bikini area. It is vegan, paraben-free, phthalate-free, cruelty-free, gluten-free, non-toxic.
Cleanses and dissolves dirt, impurities, and oxidative stress
Exfoliates and prevents breakouts, and bumps
Leaves the skin brighter,cleansed, and smooth
Glycolic Acid Glycolic acid is the most popular alpha-hydroxy acid (AHA) used in skin care. It comes from sugar cane, and is the smallest AHA, so it's the most effective at getting into the skin. Glycolic acid is a fantastic anti-aging agent that seems to do it all. It's very effective at exfoliating the skin and reducing fine lines, preventing acne, fading dark spots, increasing skin thickness, and evening out skin tone and texture.
Strawberry Complex Strawberry extract is rich in vitamin C and polyphenols with super antioxidant properties to nourish and revitalize the skin. Strawberries are acidic in nature which helps remove excess sebum, and they are also a great lightening agent that protects from free radicals and premature aging. Strawberries contain Folic acid, which aids in cell regeneration, and Ellagic acid, which protects from UV rays and collagen destruction.
Pump cleanser onto hands and smoothly onto skin in circular motions until it foams. Rinse with water or a wet towel.
Aqua Destilata ( Distilled Water), Glycolic Acid, Vitis vinifera (organic Grapeseed oil), Fragaria Vesca (Strawberry Complex) , Organic Raw Vegetable Glycerine, Soy Lecithin, Xanthan Gum, Coco Glucoside, Silk foam, Liquid Germall Plus, Natural Pink Micca .
All Types, Dry, Normal, Oily, Combination