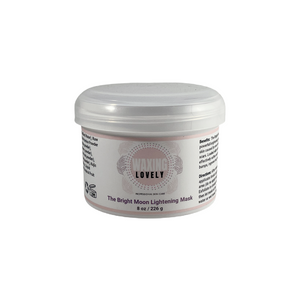 The Bright Moon lightening mask contains powerful brightening properties to reduce darkening of the skin caused by over production of melanin, dark spots, and scars. Loaded with antioxidants and vitamin C to effectively soften and polish the skin to help get rid of bumps, ingrown hair, even out the skin´s tone, and texture. Made with Pumpkin Powder, Lemon Peel, Licorice Powder, Kojic Acid, Bearberry Powder, and extra fine Volcanic Ash Pumice Powder for effective brightening effects. This mask is vegan, cruelty-free, and non-toxic.
Lightens and tightens the skin
Exfoliates bumps and ingrown hair
Combats dark pots, and scars
Promotes even skin tone, and texture
Provides moisture,nourishes, and soothes the skin
Pumpkin Powder Pumpkin is loaded with vitamin C, it has a rich source of gently exfoliating enzymes, antioxidants, beta carotene, and many other vitamins and minerals.
Kojic Acid Kojic Acid inhibits and prevents the formation of tyrosine, which is an amino acid that's needed to produce melanin. Melanin is the pigment that affects skin color. Because it inhibits the production of melanin it is a powerful lightening agent that combats skin darkening, visible sun damage, age spots, or scars. It contains antimicrobial and anti-fungal properties to help treat acne, blackheads, and breakouts.
Lemon Peel Powder
Lemon is a natural astringent, antiseptic, and bactericide. Lemons contain flavonoids that offer potent antioxidant properties. Given their relatively high acid content along with antioxidant activity, Lemon juice has been shown to contain natural skin brightening properties.
Bearberry Powder
The leaves of the Bearberry plant contain a chemical called arbutin. Arbutin is a naturally occurring form of hydroquinone. Both arbutin and hydroquinone brighten skin by blocking an enzyme called tyrosinase that produces melanin which is the brown pigment in skin. Melanin is the skin's natural form of protection against the sun, many factors can cause over production of melanin that leads to dark spots such as exposing the skin to UV rays, scarring, and hormone changes. Bearberry is packed with antioxidants to help stop the aging process and keep the skin looking youthful and radiant.
Licorice Root Powder Organic
Licorice Root contains glycyrrhizin and glabridin both are powerful brightening and anti-inflammatory agents. Licorice Root reduces hyperpigmentation that occurs when the skin produces excess melanin resulting in uneven pigments, and darkened areas in the skin. Licorice Root also has anti-inflammatory properties that combats redness and irritations caused by oxidative stress and it helps the skin produce higher amounts of antioxidants that protects the skin from sun damages caused by UV rays. It helps prevent premature aging, it clarifies, soothes, and nourishes the skin.
Volcanic Ash Super Fine Natural Pumice Powder
Our natural Pumice Powder comes from volcanic ash, is extra fine, excellent for gently exfoliation properties.
After cleansing, using a mask applicator brush, apply mask in the bikini area (do no apply mask inside the labia). Exfoliate in circular motions 1-2 minutes, then let mask sit for 7-8 minutes. Rinse with water or wet towel. Follow with extraction. 
Aqua destillata (Distilled Water), Raw Vegetable Glycerin, Volcanic Ash Pumice Powder Natural, Cucurbita Pepo (Pumpkin powder), Arctostaphylos uva-ursi (Bearberry powder), Citrus Medica Limonum (Lemon Peel powder), Glycyrrhiza glabra (Licorice Root powder), Kojic Acid, Xanthan Gum, Natural Micca, Liquid Germall Plus, Vitamin E Natural, Mulberry Essence Oil.
All types, Dry, Normal, Oily, Combination